Robert E Howard's character gets a shiny movie update since his Arnie days in this glossy 2011 movie version.
Conan is played by Jason Mamoa and offers the usual evil crazy villain, decent upstanding friends (Barbarians are really very lovely and trustworthy people, who fight a lot), beautiful woman in need of saving and lots of fighting and visual fun.
"Behold, my friend, the carriage of your dreams: a Ssangyong Korando,
36,000 miles on the clock, only one careful owner."
MISSING THE POINT
I'm sure there are lots of ways to take offence at Conan for its handling of female characters, its lack of depth, how completely ludicrous the plot is, etc, etc. That would be rather missing the point. Conan is and always has been, in any form, pulp fantasy fiction. I would venture that the tagline of any pulp fantasy fiction could be 'it's very silly, with lots of fighting and some girls in peril and stuff.'
Put out of your head any ideas of this being deep, clever, genre changing or in any way anything other than a ridiculous film with very pretty people having over the top adventures. Once you are there, then you can really enjoy it.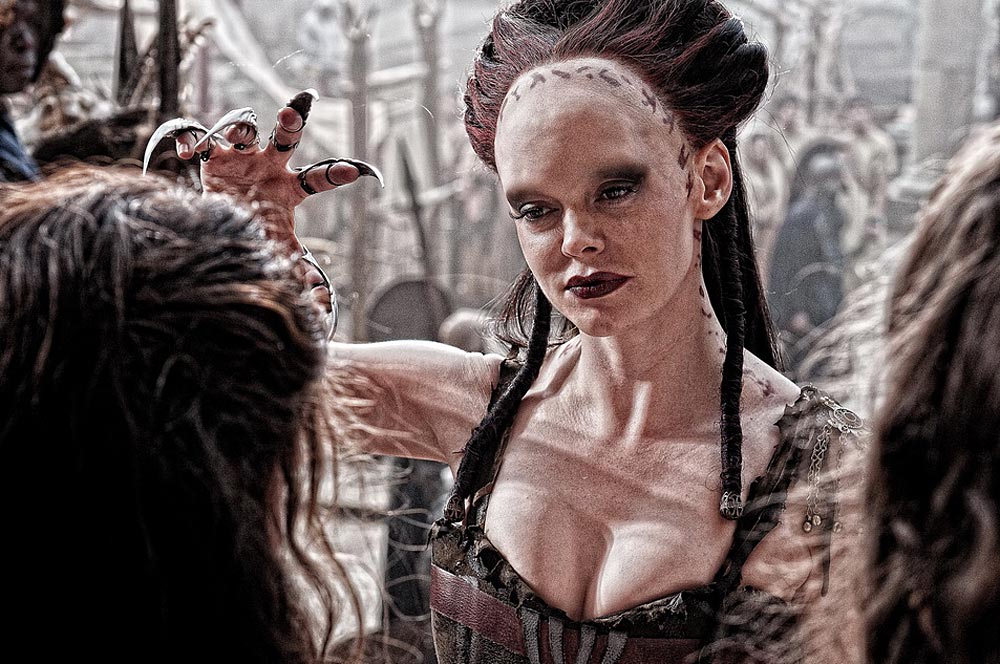 "Hold still, kid, you have a huge zit on your nose and I have
just the finger accessories necessary to expunge it."
EVIL AND MAD AND CREEPY AS HELL
It's a gorgeous film. The unpleasant and almost a bit gritty scenes of Conan's birth, the battles, the moustache twirling madness of the villain, the evil Wednesday Adams witch, all lush and delicious. It's almost parodying itself whilst still delivering a serious action film. Conan is a visual feast, don't think too hard, just let it happen to you.
In fairness to the movie, it was pretty well done too for the sort of film. A few clunks but mostly the scripting works, the plot hangs together in its own silly way, the acting is pretty solid and it all works together to draw you in and make suspension of disbelief as easy as possible. You don't have to work to stay in the mood of the film. Ron Perlman is a delight as Corin, Rose McGowan is brilliant and almost unrecognisable as Marique, all evil and mad and creepy as hell.
Basically a win. A good old fashioned fantasy romp and an updated outing for the archetype Barbarian.
Adele Wearing